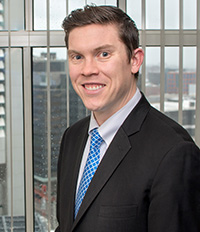 Kevin M. McDonald
Boston, Massachusetts

Associate


phone

(617) 951-2777


fax

(617) 951-0989


email

Email Me

Kevin M. McDonald is an Associate of the firm whose primary practice is in the areas of estate planning and taxation. Mr. McDonald counsels clients with traditional will and trust planning, and estate and trust administration. In this capacity, Mr. McDonald is responsible for guiding clients through every step of the estate planning process, from initial meetings with clients to ascertain the plan that best suits their individual and financial needs, to drafting their wills, trusts, and incapacity documents, to handling any of their issues that may arise after the fact. He also assists individuals and fiduciaries in the preparation of their income tax returns and other tax related matters, and advises small businesses and individuals with their business law legal needs. Mr. McDonald is able to work with his clients to build, protect, and transfer their wealth with customized estate planning, tax, and business strategies.
Mr. McDonald received his Bachelor of Science in Finance from Providence College and received his Juris Doctorate from Roger Williams University School of Law. He was admitted to the Massachusetts Bar in 2016.
Mr. McDonald is a native of Braintree, Massachusetts and has been with Taylor, Ganson & Perrin, LLP since 2017. He serves as a member of the Boston Bar Association Tax Law Steering Committee and the New Lawyers Steering Committee, and is a member of the Massachusetts Bar Association.